Learn Vedic Meditation in the Sacred Valley, Cusco, Peru
(SOLD OUT)
Join Light Watkins and Soelae Riley for this once in a lifetime meditation and exploration adventure in the sacred valley of Cusco, Peru. We will be merging the ancient stillness practices of meditation and yoga with the ancient mysteries of Peru. This magical experience will include 7 days and 6 nights of delicious healthy eating, rest and relaxation, Vedic knowledge, personal instruction, painting, sound baths, horseback riding, and exploring. It's a sacred experience tailored for you to rejuvenate, rebalance, and be inspired.
Meditation
If you've yet to learn Vedic or Transcendental Meditation, you can experience comprehensive training with Bliss More author and international meditation teacher, Light Watkins, in this beautiful environment, away from everyday life. Or, if you already practice either of those techniques, you will be taught "Rounding," which is an advanced meditation technique that will renew and elevate your practice to another level. Each participant will be given a tailored transformational program that will have you coming away feeling deeply refreshed, energized and inspired.
Yoga
To help you unwind further, international yoga teacher Soelae Riley will lead daily vinyasa and yin yoga classes that will enhance your experience, opening body and mind. Soelae's Yin Yoga classes will be about slowing down, turning inwards and recharging on a deep level. Soelae uses breath in her teachings as a vehicle to help move energy throughout the body, to release stagnant energy and to open and recharge the body on a cellular level. It is her goal in sharing and teaching classes to inspire more love, growth and connection to the self and beyond the self.
Delicious Food
You'll enjoy three daily delicious and nutritious meals in a dining room overlooking the sacred valley. We will be serving high quality, vegetarian dishes using produce grown from the retreat's garden and from the Sacred Valley. Special dietary requirements can easily be accommodated
Adventure to Machu Picch
We've organized a 1-day adventure to Machu Picchu which includes a spectacular and scenic journey to Aguas Calientes. Upon arrival, our guide will take us on an expedition through Machu Picchu Citadel, 'The Lost City of the Incas.' At this spectacular sacred Incan site, you will learn about the history and visit the truly remarkable temples of the Sun and the Condor. There will be plenty of time to explore this sacred site before returning back to our accommodation.
Explore
You'll enjoy daily knowledge talks with Light and an inspired community of like-minded people. Additional activities like painting, exploring local culture, and horseback riding to waterfalls (all included).
Opening ceremony
We will experience a local, native ceremony to welcome our group and begin the retreat with a greater understanding and appreciation of our sacred surroundings
Paint in the mountains
You can enjoy art therapy where you will be shown how to connect art with each chakra and utilize crystals, colors, music, and sounds, ceramic, and weaving by both local and foreign artists.
Vibroacoustic Music Therapy
This sound ceremony will bring healing through the ancestral sound of Tibetan and crystal bowls, other ancestral musical instruments and various shamanic elements. You'll find it relaxing and harmonizing to your body, spirit, and mind.
Horseback Riding
An opportunity for an amazing experience to horseback ride through the Sacred Valley. We will ride through the mountains to the waterfall.
Pisac's Sunday market
Situated at the heart of the Sacred Valley of the Incas in Peru is the village of Pisac—a village famous for its craft market with handmade products by local craftsmen or neighboring communities.
Light's gradual approach of going through the lessons really helps you understand every aspect of meditation. It was absolutely a priceless gift and I would recommend Light's meditation retreat to anyone and everyone.
— Caitlin
Accommodation Package Includes:
6 x nights / 7 day accommodation

Airport transfers to the retreat center

3 x Vegetarian meals (meat, poultry, caffeine and alcohol-free)

Daily Vedic meditation instruction

Green Juices every morning

Daily yoga (suitable for all levels)

Daily Vedic knowledge talks on a variety of topics with Light Watkins

Traditional welcome & blessing ceremony

Excursion and hike through beautiful mountains

Sound healing (Vibroacustic music therapy)

Horseback ride through the mountains of the Sacred Valley to a waterfall

Art therapy surrounded by the majestic peaks of the Andes

Bonfires under the stars of the sacred valley

Trip to Pisac's local craft market
What's Not Included
Flights

Airport arrival and departure taxes

Additional nights accommodation
Retreat Add Ons:
Machu Picchu day trip ($450 additional)
Light makes the mystical journey of meditation so simple and easy to learn. I can say with out hesitation it will change the way you look at the world.
— Nick
NOTE: You only have to leave a $1000 deposit to register, and you have until July 15th to pay your balance. The retreat cost does not include our optional day trip to Machu Picchu (which is an additional $450). The Couples promo is expired.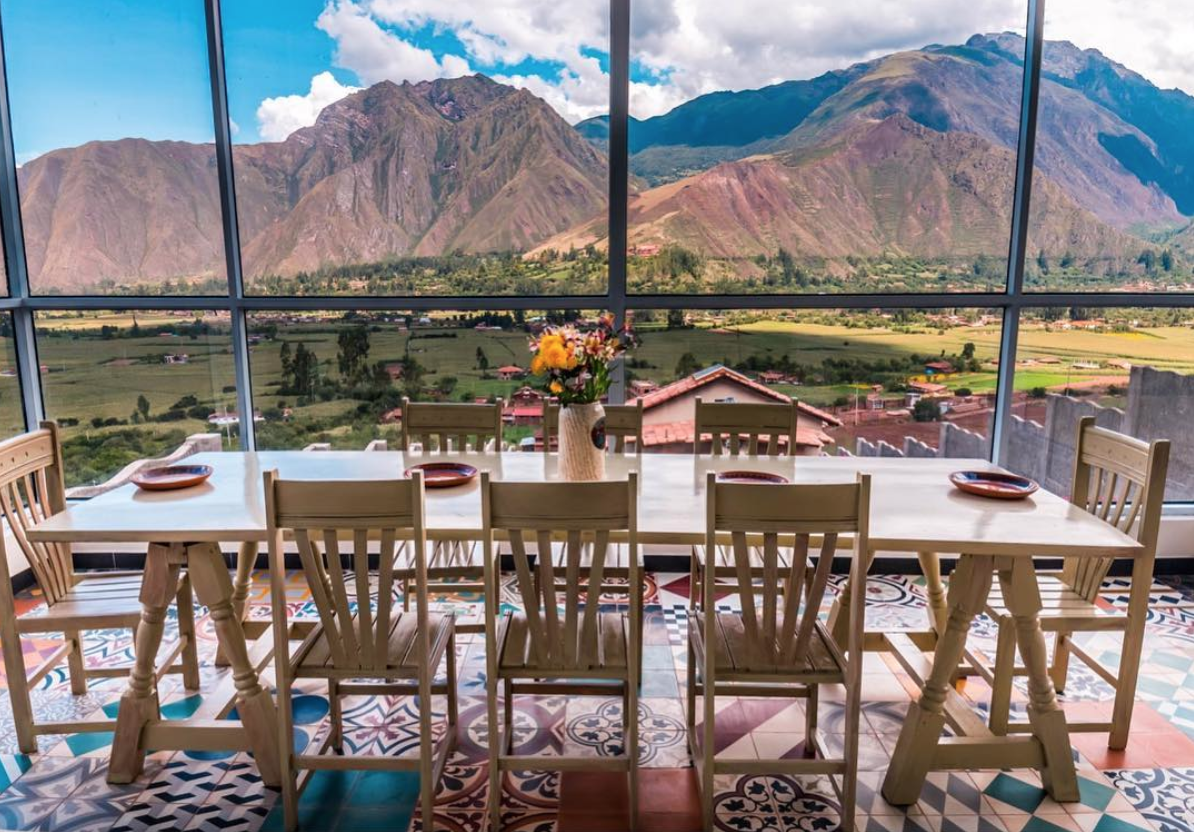 Important notes
The Vedic Meditation Training is included. If you've already experienced the live Vedic Meditation or Transcendental Meditation course, you may be eligible for a $400 rebate. Speak with Soelae about details. Rounding instruction is included for everyone.

We will be encouraging limited cell and internet usage so that you truly have a chance to recharge and reset.
Light has been teaching Vedic Meditation for ten years and leads retreats around the world. He is an expert in the art and science of consciousness, and author of The Inner Gym series and Bliss More (Random House). Light has taught thousands of people from all walks of life how to meditate in a self-sufficient way.
Soelae coordinates international wellness and meditation retreats and has collaborated with some of the best teachers in the field in meditation, yoga, nutrition and wellness. Together with Light Watkins, Soelae has created the ultimate meditation adventure retreat in the sacred mountains of Peru.
Light explains the process in a way that makes it easy to follow and perform. If you ever wanted to learn meditation or found it too difficult in the past, I encourage you to check out his retreat.
— Scott
Q & A
How many people will attend this retreat?
This will be an intimate retreat with space for around 12-18 participants—which means you will receive a lot of personalized instruction and interaction with Light and Soelae.
What time does the retreat start and end?
The retreat starts at 5pm on Aug 28th, 2018 and ends at 10am on Sept 3rd, 2018.
Who can attend?
Everyone! Vedic Meditators of all levels of experience are invited to take part. If you have not yet learned Vedic or Transcendental Meditation, Light will be teaching Vedic Meditation during on the retreat. If you've already taken the live VM or TM course, you qualify for a $400 rebate (the same training is offered at a sliding scale of $500 to $1500 if you decide to learn domestically).
What if I want to meditate, but my friend/spouse does not want to?
This is a meditation retreat, so while there will be free time to enjoy the location, everyone must participate in the training, which is only two hours of course time per day. Everything else is optional.
When should I plan to arrive at the center?
The retreat starts at 5pm on August 28th. You will be able to check in anytime that day when you arrive. It takes 1.5hrs from the airport so please give yourself plenty of time to arrive and settle in before we start. If you wish to get in a day or more earlier this is also a great idea.
How do you assign the rooms?
Rooms are assigned on a first-come-first-serve basis based on when you make your deposit. All of the villas are unique with each villa representing one of the seven chakra energy centers in the body. As there are only 7 villas in total most villas are twin or triple share. There are no refunds or discounts if you do not like your assigned room.
Are the rooms all the same?
All of the villas are uniquely designed with sacred geometry. Each villa representing one of the seven chakra energy centers in the body. Each villa is surrounded by the elements related to each chakra with crystals, colors and flowers and aromas.
What airport do I fly into?
Please book your flight to Cusco Peru. The airport is called Alejandro Velasco Astete International Airport (CUZ). Or you may wish to fly into Lima and get a connecting flight to Cusco. Transfer from the airport is included.
Are transfers included?
Yes, we will pick you up from the airport and bring you to the retreat in the Sacred Valley. It takes 1.5hrs from Cusco airport so please leave enough time when booking your flights. If you arrive a day or more earlier you can either meet our driver at midday at the airport on the 28th, or make your own way to the retreat center. Return airport transfers are of course also included.
What can I expect the daily program to look like?
Each participant will engage in their own individually-tailored program and receive instruction in meditation and the art of Rounding. Guests can take the retreat at their own pace. However, a day will look something like this:
Morning yoga

Breakfast

Instruction and practice for new meditators

Rounding instruction and guidance for existing Vedic Meditators

Free time / optional planned group activity (hiking, sightseeing, art therapy)

Lunch

Afternoon session for new meditators

Free time /optional planned group activity (horseback riding, markets, relaxing)

Optional Rounding

Knowledge talks with Light Watkins

Dinner

Addition day excursion to Machu Picchu and other sites is available as an optional add-on